Love – that which we all seek. Even if we've convinced ourself that love is namby pamby weakness, we all seek love. We all want to be acknowledged, we all want to belong, we all want to contribute, and we all want to be our true selves. All of this is love. The ever-present quiet hunger for this inside is love – knocking at our psyche ever softly.
Love is present in our every interaction, with every body and every thing. Even if that interaction is occuring in anger, hate, the ugliest of fights. Fear screams helplessly in those interactions, but love is present — silently. Most importantly, love is present in our interaction with ourself.
If love is present everywhere, every moment, in every interaction – how come we sense a big huge absence of love, rather than it's presence? Thing is, love is also a skill. Love is a way of seeing. If we are unable to sense that ever-present love, it means we are not seeing skillfully.
So how do we see skillfully? The most important tool to use for that is awareness. Especially, self-awareness.
The second important tool is two fold: courage and kindness. The courage to see and acknowledge what is unpleasant, with kindness – especially within ourself. The courage to be with that unpleasant feeling – with awareness. The same goes for what is pleasant within us. The courage and kindness to acknowledge what is pleasant within us, make it our own as an asset – despite the simultaneous presence of unpleasant feelings.
The third important tool are all the little helpers we might get from the external world. All the help that we get from the external world are tiny clues. They are crucial. Yet, they are little. The exalted avataar, the mighty guru, the book that was a life-changing guide, the friend who believes in us, the innocent face of a child holding out a flower at our most vulnerable moment, the grimace of dissapproval from the one whose approval matters so much to us – all of that and everything in-between are crucial helpers — but little in comparison to the importance of awareness and self-awareness.
This is the third article in the series on astrology – how it helped me to understand my personality and present role in the world better, and how you might use it too to understand yourself better. However, just like all other tools from the external world, this too is only a tiny helper, a set of clues. To use it well, we have to be aware of our inner voice, and accept or reject the clues in these articles as per the guidance of our inner voice. In every moment of conflict we have to keep the guidance of our inner voice as the final authority. We have to learn to differentiate between the quiet steadyness of our inner voice, and the stubborn childish impulse to be right or cloy for external support.
To really connect with the power of astrology, knowing your Sun Sign is not enough. Our Sun Sign is a clue to our basic identity and life's purpose in this present avataar, but it might not give sufficient clues as to how we may fulfill that purpose. Our basic identity does not exist in isolation. It exists in this world, it interacts with others, and via those interactions, it fulfills its life purpose. The positions of other planets at the time of birth gives clues to the assets and challenges we have on our path to fulfilling our purpose.
Yet, most of us only know our date of birth (and place of birth) and have not bothered drawing up a chart for ourself.
That is the way it was for me for several years. I got interested in astrology at an early age. I tried studying it from a teacher. That was a failed attempt. He was interested in Sanskrit texts. He didn't really want to share this science with me. I too got caught up in other activities of life. Once in a while I read horoscopes for my Sun Sign at astrologyzone.com. They didn't really help personally, but I learnt bits and pieces about the subject. For example, I learned the positive way of processing the impact of Saturn, the impact of eclipses and how to process them positively, the perceptory impact of retrograde planets. More rarely, I revisited The 12 Mysteries of Love by Linda Goodman and re-read it in patches – simply because it was good to read. It reaffirmed my faith in an inherent wisdom in the grand scheme of things.
Then, one day, somewhere around the age of 41, I sensed an important but subtle something turning within. Once again I felt the need for guidance to figure out what was happening to me. I turned to The 12 Mysteries of Love, looking for clues. My Sun Sign is Scorpio. A lot of what I read, resonated with me. Yet, one thing in the text was surely not me — the desire for revenge. I felt there was more to me than just being Scorpio. That is when I found out the importance of the Moon Sign and the Ascendant. I asked my mother for my time of birth, and found out my Moon Sign and Ascendant using some online tool (determining the position of planets in the sky as per a particular time and place is just arithmetic with correct data, hence computers can do it easily). The revealing power of astrology opened up for me one step further. A long-felt conflict seemed reflected in what I found.
We are interested in love, harmony, fulfillment — not zodiac signs and planets. Astrology provides a good compact framework of the psyche, on its search for love. Before we go into the first real gateway of astrology — of calculating our birth chart (with or without the time of birth), and discussing what it tells us — look at these two summaries below. I have removed the names of the zodiac signs, so that you may focus on the framework of the psyche on its search for love. The first is from Astrology for Yourself by Douglas Bloch and Demetra George. The second is from The 12 Mysteries of Love by Linda Goodman. Both very different from each other, hence more powerful together.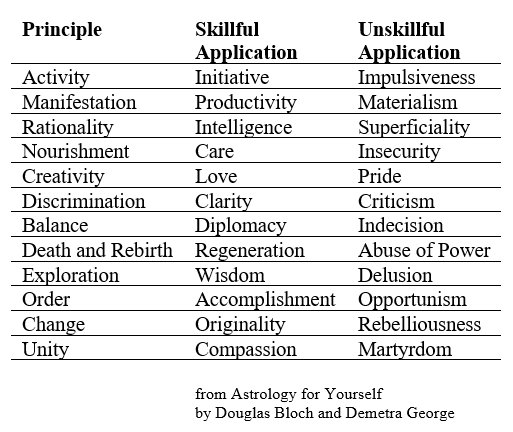 Each line conveys so much. Worthy of reflection. For example, the principle and power of Discrimination: when applied in a hurry results in criticism, of ourself or others. When we let it percolate within, not in a hurry to arrive at conclusions, it brings clarity.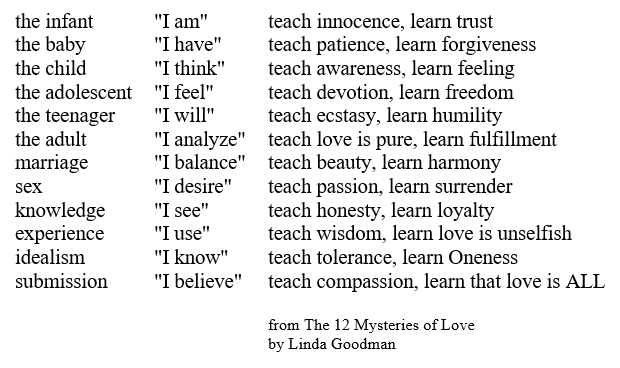 What are we to take away from these summaries? Nothing in particular. Just go through it with attention, and let it seep in. That is an important and alternate way to receive – to just let things seep in without actively trying to learn, do, acquire. It hones our intuitive thinking – crucial for using astrology skillfully. It hones our ability to be more self-aware.
In the next post we will go beyond the Sun Sign, beyond our identity, towards our mind and how we are seen by others in our world. To prepare for that, try to find out your time of birth.
Previous articles in this series
1: It Works
2: The 12 Mysteries of Love