It's because of this doll-like thingy that she is holding and listening intently to — that's why I chose this jigsaw puzzle that I'm doing these days.
No, it's not about romanticizing depression. It's about that tiny voice of light and guidance that comes and speaks to you from out of nowhere, within the deepest darkness.
(article continued below the image)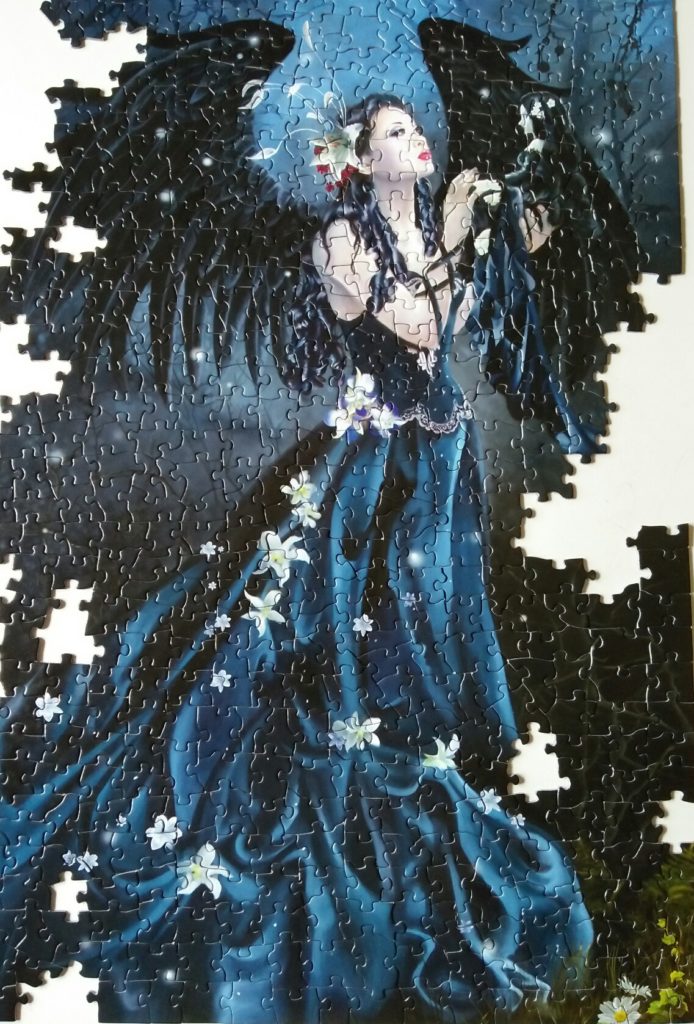 "They came flying from far away, now I'm under their spell
I love hearing the stories that they tell
They've seen places beyond my land and they've found new horizons
They speak strangely but I understand
As all good friends we talk all night, and we fly wing to wing
I have questions and they know everything"
(from the ABBA song "Eagle", which is so very much my song)
They: Angels
(Angels are the thoughts of God ~ Marianne Williamson)
They: Who tell you, "You are valuable and beautiful irrespective of how things may seem to be."
They: Who tell you, "You are lovable because you exist" (Louise Hay)

This is a huge sentence. Imbibe the depth and matter-of-fact truth of what it says. Read it slowly —
You are lovable because you exist.
You do not have to become a particular way to become lovable. You already are lovable. Irrespective of your thoughts, actions, and state.
You exist. That alone makes you lovable. Because every tiny iota of this universe is lovable and worth going into raptures over.
They: Who tell you, "I don't get depressed about depression. Depression is a biological response, and the body's mechanism for processing stress" (Vinod Tewary). They say, "you are pure", when you unburden yourself about your problems and feelings about yourself. There by they free you, without minimizing or negating what you are experiencing.
And little by little, that tiny voice of light and guidance becomes a part of you. It always was in the first place. That is why what it said resonated with you, you listened to it intently and made the message your own.
And soon you are not scared to look at the darkness and barnacles of the remaining picture. You sit beside the morning window, and fresh morning air, and put the pieces together by sun light. The sun of our solar system, and the sun of our being.
The larger picture becomes more and more beautiful. You take breaks from putting the pieces together, simply to look at it in rapture.
When the picture is done, you spread your black wings
(as in the superb psychological movie The Black Swan), and acknowledge your darkness as a beautiful part of yourself.
Then, with the power of your mind, and the sun that shines on it, you soar
"Like an eagle that rides on the breeze"